Beauty & Self
Books & Music
Career
Computers
Education
Family
Food & Wine
Health & Fitness
Hobbies & Crafts
Home & Garden
Money
News & Politics
Relationships
Religion & Spirituality
Sports
Travel & Culture
TV & Movies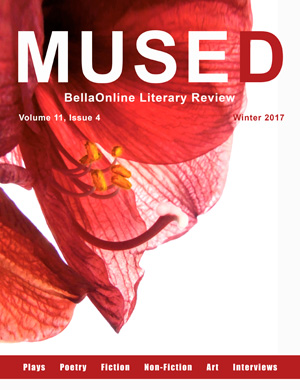 We all travel on this blue-green ball around our very own star each year, sliding a little closer, sliding a bit further away. The balance is critical. Too much closer and we'd roast. Too much further away and we'd freeze.

We should be aware of just how blessed we are that our Earth is "just right" - and do what we can to keep our world healthy. It's the only one we have.

Enjoy the Mused Winter Solstice 2017 Issue



Bathrooms, Buses and Elevator Doors
Etiquette - Lisa Plancich, Editor

A surefire way to irritate the person or people on the other side of the door is your failure to yield.




INTERVIEW 1 Graeme Smith
SF/Fantasy Books - Evelyn Rainey, Editor

First of two interviews with Fantasy Author Graeme Smith of the Dark Circle series.




Shopping in the US is fun
Romantic Getaways - Marianne de Nazareth, Editor

It's fun to shop in the US, especially if you get great deals on branded clothes.




Laundry Room Tips & Tricks
Cleaning - Tammy Judd, Editor

Laundry can be overwhelming to any of us. I have recently been conducting research to find ways to make doing and completing your laundry ever so much easier!




Sewing by the Yard
Sewing - Cheryl Ellex, Editor

What can be made with just one yard of fabric? Plenty! Think throw pillows for the couch, chair or bed, squares of fabric hemmed on all edges to softly drape over kitchen countertop appliances, or even a simple table or dresser scarf are just a few projects to consider and of course so much more.




I Love Tasty Cookbook Review
Quick Cooking - Karen Hancock, Editor

Those food videos that everybody posts to Facebook are captured in a delightful cookbook geared for busy cooks who want to get out of the kitchen fast. Fun!


| Google+ |
E D I T O R R E C O M M E N D E D
Paradise in Plain Sight


Paradise in Plain Sight: Lessons from a Zen Garden by Zen Priest Karen Maezen Miller, is both memoir and Zen guide. Maezen Miller shares experiences repairing and tending a historical Japanese garden in her own backyard, guiding the reader towards direct insight. It is beautifully written, honest, and relevant to the modern seeker of any faith.
Turn On Your Inner Light by Debbie Mandel


This entertaining book offers easy to implement stress-management tools for 29 common life situations: techniques, visualizations and a fitness workout to get you off the couch. Take back your power and live more energetically. Donít vent - reinvent!
The Divine Home


An absolutely gorgeous home decorating book on how to decorate with spiritual objects such as santos, retablo, milagros, statues of saints, and crucifixes. Many examples of Santa Fe style and Mexican hacienda style, but also examples of homes in NYC and other places. Beautiful full color photographs everywhere. Serene, spiritual.