Beauty & Self
Books & Music
Career
Computers
Education
Family
Food & Wine
Health & Fitness
Hobbies & Crafts
Home & Garden
Money
News & Politics
Relationships
Religion & Spirituality
Sports
Travel & Culture
TV & Movies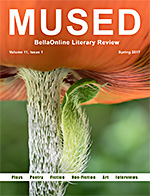 In our modern world of 24-hour diners and around-the-clock email, it sometimes seems as if we've lost track of nature's cycles. But then the Spring Equinox comes along and reminds us to pause. For thousands of years, cultures around the world have recognized this one special day as representing a balance of light and dark. It's a unique moment in time where our world settles in equilibrium – just for a breath. And then the sunlight shines out and pulls us deeper into Spring.

Enjoy the Mused Spring Equinox 2017 Issue



The Flash
Prime Time TV - Maria Brown, Editor

By day Barry Allen is a CSI mastermind who works for the Central City Police department. By night, he is The Flash.




A Marriage at 21 Years
Marriage - Michelle Taylor, Editor

In talking with Wes and Jen Williams we learn how to get through the hard times in marriage and how to depend on each other as husband and wife.




Rise of the Enemy Book Review
Suspense / Thriller Books - Karen Hancock, Editor

Carl Logan is back in the second book of the Enemy Series. He is captured and tortured by the Russians and it seems that his agency has set him up.




The Star of Hope
Tarot - Linda J. Paul, Editor

The Star is one of my favorite Tarot cards. It speaks to us of hope in the face of adversity. There may be times when you are struggling through a tough situation or the darkness of your own mind. It is always a blessing to see that slight glimmer of hope shining through the dark tunnel of despair.




The Modern Library
Reading - Connie Mistler Davidson, Editor

The library of my youth was quiet place with shelves of books and tables to sit and read or study. The card catalog offered the road map to the library's offerings. The modern library has far more to offer. What does a well-equipped library have to share with patrons? Read on!




Vintage Modern Crochet - Robyn Chacula Book Review
Crochet - Holly Messenger Aamot, Editor

Review of the Interweave book by Robyn Chacula focusing on crochet lace women's fashion.


| Google+ |
E D I T O R R E C O M M E N D E D
The Weiser Field Guide to Cryptozoology


The Weiser Field Guide to Cryptozoology by Deena West Budd includes information, interviews, and stories about forty different cryptids seen in various places all over the world by credible eyewitnesses like policemen, rangers, and doctors. Readers will learn where and how to find flying humanoids, hairy humanoids, giants of all kinds including rabbits, bats and spiders, goblins, and vampires.
Pinnacle Car Care


The Creme De La Creme of Ultimate Car Care is In the House! Using Pinnacle´s product line is like a visit to the salon and the results--magnifique!
Healing Herbs


Unknown facts revealed about herbs. Information that you should know about 80 herbs that treat common health ailments.