Beauty & Self
Books & Music
Career
Computers
Education
Family
Food & Wine
Health & Fitness
Hobbies & Crafts
Home & Garden
Money
News & Politics
Relationships
Religion & Spirituality
Sports
Travel & Culture
TV & Movies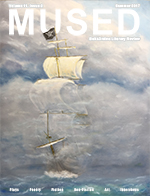 Our time on this Earth is fleeting and precious. We often know that in a vague, intellectual sense, and yet we can find ourselves whittling away those finite minutes without mindful thought. We should celebrate the beauty in a child's smile. The radiant sound of saying "I love you" to that special person. The warm touch of a hand. The delicate scent of a wildflower.

Enjoy the Mused Summer Solstice 2017 Issue



2017 Emmy Winners announced
Entertainment News - Trina Boice, Editor

The 2017 Emmy rewards are now announced. TV lovers enjoyed the Sunday night awards ceremony. Below is a list of the winners.




Blood Defense Book Review
Suspense / Thriller Books - Karen Hancock, Editor

Samantha Brinkman is asked to represent a detective who has been arrested for a double murder. Samantha is unsure whether he is guilty, and her representation of him puts her and her defense team in grave danger. This is a great thriller.




Misspelling as Warning Signal
School Reform - Maeve Maddox, Editor

Something is not right when the same adults who are able to perform basic math functions and recall song lyrics and sports statistics are unable to spell the words they use in day-to-day writing.




Curel Hydratherapy Wet Skin Moisturizer
Body Care - BB Lee, Editor

The Curel Hydratherapy Wet Skin Moisturizer is the ideal skin care product for the woman with a very busy schedule.




Noorjahan's Rubies - Muskaan
Tatting - Georgia Seitz, Editor

Muskaan shares her pattern "Noorjahan's Rubies Ring" with us. Muskaan designed these earrings and ring pattern especially for the 2017 Palmetto Tat Days




Site of the month. Italki.com
Spanish Language - Angeles Fernández, Editor

Italki, a good and practical way to learn/practice Spanish... or any other language you've got on your list!


| Google+ |
E D I T O R R E C O M M E N D E D
True Balance by Sonia Choquette


This terrific guide gives you fun, everyday ideas with which to open and strengthen all seven of your chakra energy-centers, including the third-eye chakra and crown chakra which help you to connect with psychic phenomena and the divine.
From Pain to Parenthood


Follow one womanīs incredible and heartfelt journey from the pain of miscarriages to the joy of becoming a parent through adoption. Filled with honest, raw emotions and helpful coping tips, "From Pain to Parenthood" promises to touch your life with a real story that shows the power of the human spirit and the beauty of a motherīs love.
Itīs An Animalīs Life


Shopping is fun at Itīs An Animalīs Life. When youīre looking for the perfect animal gift, look no further.