Beauty & Self
Books & Music
Career
Computers
Education
Family
Food & Wine
Health & Fitness
Hobbies & Crafts
Home & Garden
Money
News & Politics
Relationships
Religion & Spirituality
Sports
Travel & Culture
TV & Movies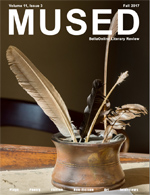 Autumn is a season for counting our blessings. For realizing just how much we have in life where so many others are without. It can often be easy to take things for granted. Things which millions of people desperately dream of having. By pausing for a moment, and looking around with mindfulness, we can find a new center. Begin with fresh energy.

Enjoy the Mused Autumn Equinox 2017 Issue



A2 milk
Allergies and Colds - Sheree Welshimer, Editor

Cows' milk that only contains A2 protein may benefit those who have difficulty digesting milk




Top 10 Movie Songs - Vocal
Drama Movies - Angela K. Peterson, Editor

These songs are performed during the film or featured on the soundtrack. See if my eclectic mix of favorites matches some of your own.




Get Away On A Festive Christmas Week Cruise
Cruises - Nancy Schretter, Editor

If you're looking for a great Christmas week vacation, get away on a holiday cruise. Holiday cruises from close-to-home ports are a great value, often taking guests to tropical beaches for less than the cost of round-trip air alone. So book now and enjoy a festive Christmas week vacation at sea.




Lavender and Rosemary A Supermarket Find
Fragrance - Juliette Samuel, Editor

Has a flower or two called out to you when shopping in the supermarket? Hear their call and listen.




Empire State Building
Senior Travel - Hazel M. Freeman, Editor

The best place to get a big view of the Big Apple? The world-famous Empire State Building. If you're a senior, you're entitled to a discounted trip to the top. Guest author Janet Collins takes us to the top of the Empire State Building.




The Art of Thanksgiving
Christian Living - Lynne Chapman, Editor

Learning to give thanks - in all circumstances.


| Google+ |
E D I T O R R E C O M M E N D E D
Ni Hao, Kai- Lan: Super Special Days DVD


This Ni hao, Kai- Lan DVD: super Special Days is great for preschoolers who are fans of the show, or for preschoolers who need help identifying and managing negative emotions.
The Weiser Field Guide to Cryptozoology


The Weiser Field Guide to Cryptozoology by Deena West Budd includes information, interviews, and stories about forty different cryptids seen in various places all over the world by credible eyewitnesses like policemen, rangers, and doctors. Readers will learn where and how to find flying humanoids, hairy humanoids, giants of all kinds including rabbits, bats and spiders, goblins, and vampires.