Beauty & Self
Books & Music
Career
Computers
Education
Family
Food & Wine
Health & Fitness
Hobbies & Crafts
Home & Garden
Money
News & Politics
Relationships
Religion & Spirituality
Sports
Travel & Culture
TV & Movies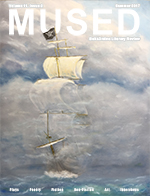 Our time on this Earth is fleeting and precious. We often know that in a vague, intellectual sense, and yet we can find ourselves whittling away those finite minutes without mindful thought. We should celebrate the beauty in a child's smile. The radiant sound of saying "I love you" to that special person. The warm touch of a hand. The delicate scent of a wildflower.

Enjoy the Mused Summer Solstice 2017 Issue



The Evolution of Johnson's 1965 Education Act
School Reform - Maeve Maddox, Editor

The original ESEA was intended to compensate for the obstacles to learning created by poverty. Since 1965, ESEA has been modified, renamed, and extended to include such issues as civil rights.




Prime Evil Book Review
Suspense / Thriller Books - Karen Hancock, Editor

DCI Jack Callum and his team of detectives investigate the grisly murder of an actor who was nailed to a tree. The novel is set in the 50s, and Jack's partner is a woman; this causes friction because women aren't supposed to be good at this kind of job.




Honey Film Review
Drama Movies - Angela K. Peterson, Editor

Actress Valeria Golino, whose English-language films include "Rain Man" and "The Indian Runner", steps behind the camera to direct her first feature. "Honey" tackles the difficult subject of assisted suicide via an engaging heroine and her unlikely friendship with a cantankerous older man.




How to Lose Belly Fat – Diet or Exercise?
Nutrition - Moss Greene, Editor

Trying to figure out how to lose belly fat can be confusing. Some say a belly fat diet and others say abdominal exercises. Here's what studies say works best!




Fun Tips for Cooking With Kids
Cooking for Kids - Kymberly A. Morgan, Editor

Here are some more of my Cooking with Kids tips to make your produce shopping and healthy meal prep a pleasant experience. Learn about organic produce, how to pick what you really need, and how to get the kids involved in age-appropriate and fun ways.




Dora Young Knot
Tatting - Georgia Seitz, Editor

A remarkable tatter and the only tatter to have received a patent for a tatting technique, Dora Young published the book, "All New Knotless Tatting Designs." You will remember mention of the "Dora Young Knot", the bridging or split chain technique. A list of famous books at the end.


| Google+ |
E D I T O R R E C O M M E N D E D
Low Carb Charts


A must have reference guide for any low carber. Keep the carb counts of fruits, veggies, meats, alcoholic drinks and more at your fingertips.
Visual Link Spanish


Spanish language, interactive lessons. You can try 11 lessons for free. I´ve been recommending this course for several years, as I find it very intuitive.
Lidia´s Italy


A great Italian cooking book, with a diverse selection of Italian recipes that will takes the readers on a journey through some of the most beautiful areas of Italy and their grand culinary traditions.